by Columbus Bath Design |November 22, 2017 |20 Comments | Bathroom Design, Bathroom tips, Bathtub Liners, homeowners, Making the Decision to Remodel Your Bathroom, Tips for the Home | bathroom decor, Bathroom Decorating, Christmas, holiday, holiday decor, Holiday Decorating, Holiday Decoration, Holiday Home Decorating, holiday tips
When doing your holiday decorating at home, don't forget about the bathroom decor. There are many fun, festive, and easy ways to dress up this space for the holiday season. A few simple touches can transform it into a cheerful spot. Here are some ideas for decorating your bathroom for the holidays:
Festive Linens
A very easy way to bring the spirit of the season to the bathroom is by changing out the linens, rug, and shower curtain. Choose holiday prints and patterns for hand towels and bath towels. There are many design options to select from for shower curtains, as well. You could also keep it simple by choosing a color scheme like red and green or red and white.
Add Easy to Clean Items
Select decorations to place on top of the toilet and the counters that are easy to clean. For busy bathrooms that get a lot of use, it's important to be able to keep them clean, especially if you're hosting guests. Use that as a guide to choosing decor items. Decorations with smooth ceramic surfaces can be wiped down and dusted quickly, which is a must in a bathroom. Avoid items with a lot of glitter, or items made out of fabric. Don't clutter the counters with items, but do add some charm to a few select holiday pieces.
Don't Forget the Scents
Add a candle or an air freshener with a sweet holiday scent such as a spruce tree or warm vanilla sugar. It will bring that extra touch to the bathroom, where an air freshener is always needed. A lit candle on your countertop can be the perfect accent in this space when hosting family and friends for holiday gatherings.
When dressing up your home for the holidays, take the time to select decor for the bathroom. It's a small space, but can easily add to the holiday charm.
by Columbus Bath Design |December 22, 2016 |1 Comments | Bathroom Accessories, Bathroom tips, Tips for the Home, Uncategorized | Bathroom Gifts, bathroom tips, Christmas, Holiday Gifts, holiday tips, homeowners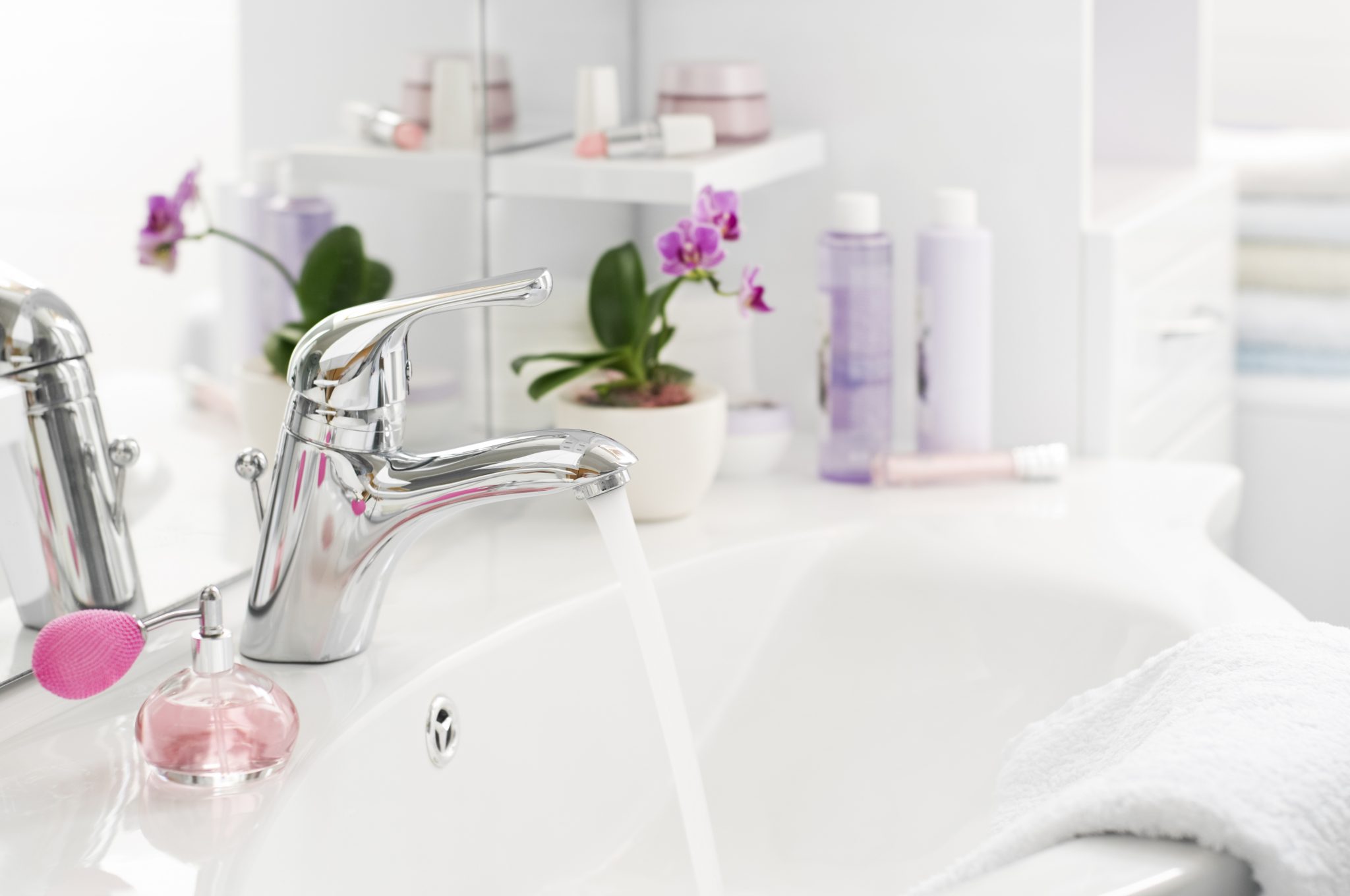 There are many unique holiday gifts that you can offer to your friends or family members to spruce up their bathrooms. One of the most common bathroom holiday gifts is a basket. Many people place baskets in their bathrooms and fill them with magazines, towels or bath items. You can add hand towels, soap holders, soap dispensers and wash clothes to a basket and present them as one holiday gifts item.
Bath Salts. Bath salts are cheap, simple and ideal gift items. Creatively presenting your bath salts will highlight the color and texture of your salt grains. Consider convenience and style when picking your bath salt containers and do not be reluctant to be creative.
Beautifying bottles. Glass bottles loaded with perfumed bath salts add a touch of style to any bathroom. These bottles come in varied sizes and shapes and are available in various home improvement stores. Pick a glass bottle that matches the personality of the intended gift recipient. Coordinate the color of the bottle with the scent of bath salt, for example, rose scented salts in a pink glass bottle. Larger grained bath salts will not spill effectively from a narrow bottleneck, so consider the size of your salt grains when picking a bath salt bottle.
Jar. A jar offers the avid bath salt user more storage capacity. Pair your jar with a little wooden scoop to gather and distribute the salts. The best bath salt jars are short, wide and made of clay or glass. An important bath salt jar feature to consider is a mouth that is wide enough for the wooden scoop. Seal your bath salt jar with a twist-top lid or a flat piece of cork. Add a decorative touch to your bath salt jar by tying a strand of ribbon around the lip of the top.
Little Bags. Pour scoops of scented or unscented shower salts into little cellophane bags. Unlike fabric or mesh, the waterproof quality of cellophane prevents the salts from splashing and protects them against humidity.
by Columbus Bath Design |December 9, 2016 |0 Comments | Bathroom Accessories, Bathroom Design, Bathroom Maintenance, Bathroom Remodeling Materials, Bathroom Remodeling Tips, Bathroom tips, homeowners, Tips for the Home, Uncategorized | bathroom decor, bathroom tips, decor, holiday decor, holiday tips, homeowners
When your bathroom has undergone a complete remodel, you want to show off your new powder room to your friends and family. Showcasing your updated washroom during the Christmas season is especially important; you'll likely find yourself avidly hunting for holiday tips to help you improve your bathroom decor. Well, you can stop searching. Our team at Columbus Bath Design has rounded up a collection of Christmas decorating tips that are sure to impress your holiday house guests.
If your newly renovated bathroom has a shower curtain, add unbreakable Christmas ornaments to your shower curtain hooks. Pick a color to coordinate with your flooring, tile work, or countertops.
Drape holiday ribbon and Christmas boughs around your bathroom mirror. Add twinkling lights for an extra festive touch.
Wrap toilet tissue rolls in bright ribbon and display on your toilet tank. Your friends and family will be impressed with your attention to detail and your holiday spirit.
Clear glass vases filled with color-coordinated Christmas balls is another awesome way to add a delightfully decadent touch to your upgraded bathroom. Choose vases in a variety of sizes and nestle two or three together in a corner.
Holiday towels are a must-have for those looking to impress visitors. Bright red towels and hand towels look great or you can pick a fun color like silver or ice blue. Whichever color you choose, make sure you repeat the color throughout your decorating scheme.
Christmas wreaths are not just for the front door. Add a luxurious holiday wreath to the wall above your toilet tank for an upscale look.
If you use these bathroom tips to upgrade the look of your renovated washroom for the holidays, you'll impress your guests and earn plenty of compliments. How many of these holiday decor tips will you be trying this season?