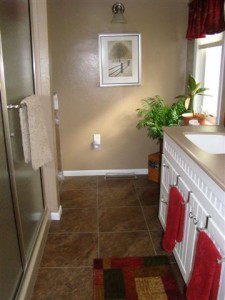 We certainly hope you're enjoying a newly remodeled bathroom thanks to our team here at Columbus Bath Design of Columbus, OH.  If you are, or even if you've seen the dazzling examples of dream bathrooms in our showroom, you'll notice that one of the reasons our bathrooms are so stunning is that they are immaculately clean.  You'd be surprised how many people neglect this one simple step in maintaining a beautiful bathroom space.  In this article, we'd like to present some helpful hints to keep your bathroom in tip-top shape.

Cleaning – Make it a Habit
How often do you find yourself scrubbing and spritzing right before friends and family stop by?  Don't worry – we've all been guilty of that.  Unfortunately, by letting the bathroom cleaning go unattended for a while, you're just making the work that much more difficult.  Bathrooms should be cleaned weekly at a minimum.  We also recommend taking a few minutes each and every day to do some minor cleaning (wipe down the counter and products, pick up clutter, put towels in a laundry hamper or basket) so your weekly cleaning doesn't become overwhelming.

Keep Your Supplies Close
It's easier to clean a bathroom when the cleaning products are handy.  Each bathroom should have a scrub brush for the toilet.  They're inexpensive and you are much more likely to clean the commode often if the brush is on site.  Organize your rags, scrub brushes, glass cleaner, soap, and tub cleaning products so that they're not cluttered.  Be sure to keep them out of the reach of children and make sure the cleaning products have child-proof caps.

Columbus Bath Design Products Make Cleaning Easy!
If you've remodeled using Columbus Bath Design products, you already know how easy it is to clean the bathroom.  For normal everyday cleaning, we suggest using a mild soap, such as dish detergent and water with a soft washcloth.  Avoid using scouring pads or abrasive cleaners as they will dull the surface over the years.

Other recommended cleaning products are Formula 409 and X-IT.  Vinegar and water may also be used to soften water minerals.  If you need to use a disinfectant, try Clorox Bleach diluted with water to sanitize the enclosure.

We do NOT recommend using the following:  Original Clean Shower, Clean Shower for Plastic Showers and Glass, Soft Scrub, Dow disinfectant cleaner, Lysol disinfectant cleaner, acetone, Lestoil, ammonia, fingernail polish remover, aerosol cleaners, or scouring pads.  Again, these products can dull the surface and could even void your bath product warranty.

Should you have any questions about cleaning products, feel free to contact us here at Columbus Bath Design of Columbus, OH.  Our friendly, knowledgeable team can provide some further assistance about the best ways to keep your Columbus Bath Design products sparkling. By following these guidelines, you'll never have to be embarrassed when friends or family decide to make an unannounced visit.  When that doorbell rings…you'll always be ready to show off your beautiful bathroom!