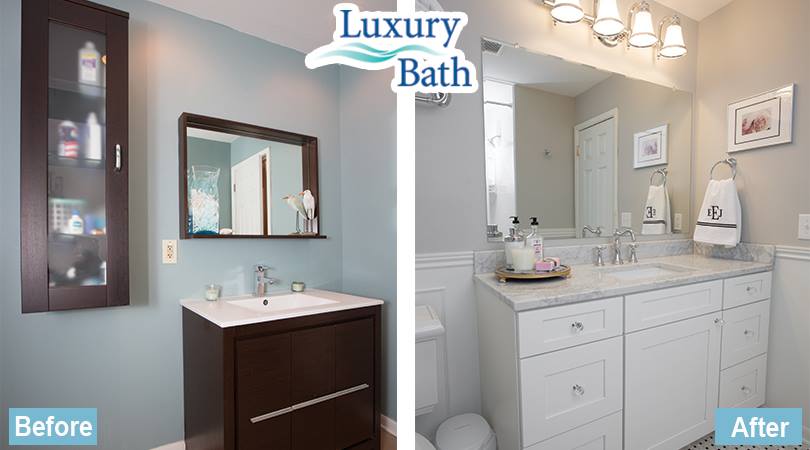 Bathroom remodeling projects essentially always add significant value to a dwelling. Projects of this type also provide one of the highest returns on the property owner's renovation dollars. Fortunately, many bathroom tips are available for those planning to remodel this much-used room.
Replacing Worn or Dull Fixtures. Among the most effective ways for new homeowners to update a bathroom are simple tasks such as replacing shower heads, drawer pulls and faucet handles. This is particularly true if the primary hardware in the bathroom is up to date and functioning properly. For example, rather than replacing an entire tub and shower ensemble that is still in excellent condition, old, dull fixtures can be discarded for new pieces made from stainless steel, brushed nickel or aged bronze. Homeowners can also buy such fixtures in bright colors with enamel coatings, if their goal is an ultramodern bathroom.
Lighting. Bathroom lighting must also be considered when remodeling. Fortunately, with the broad range of options on today's modern market, it is possible to use different types of lighting in the same room. For example, bright sconces around a vanity ensure that enough light is available for personal grooming tasks, such as shaving or applying makeup. However, the homeowner may also enjoy a relaxing bath in dim lighting, which can be installed in another area of the room using traditional fixtures.
Flooring. A new floor goes a long way toward perking up an old, outdated bathroom. Ceramic tiles are a great choice as they offer a clean, sleek appearance and require little maintenance. Tiles of this kind are available in various styles and colors, and are known for their longevity.
Stone flooring offers an elegant and beautiful appearance and should definitely be considered by homeowners who desire a luxurious bathroom. Those who prefer an inexpensive, yet attractive floor should consider vinyl, as it provides ideal resistance to moisture and humidity, and is virtually maintenance free.
Additional bathroom tips can be obtained from local contractors or employees at home improvement stores. Regardless of one's individual preferences, most new homeowners are highly pleased with the beauty and value a new, updated bathroom provides.