by Columbus Bath Design |December 1, 2017 |3 Comments | Bathroom Accessories, Bathroom Design, Bathroom Remodeling, Bathroom Remodeling Materials, Bathroom Remodeling Tips, Bathroom tips, Full Bathroom Remodel, One Day Bathroom Remodel | bathroom, Bathroom Decorating, bathroom design, Bathroom Design Ohio, Bathroom Remodel, bathroom remodeling trends, bathroom trends, bathtub, columbus ohio bathroom design, design tips, remodeling trends, Shower Design, sink
As the year ends, it's a good time to look back at the 2017 trends in the world of bathroom remodeling. Here is a review of the most popular features used in the past 12 months:
Natural Materials
Many bathroom finishes for 2017 were made from raw materials. For example, vanities and sink basins were often trimmed with metallic elements. Natural stone was also used to create a unique environment.
Earth Tones
Many people like to feel relaxed in their bathrooms. Because of this, the choice for wall color is very important. In 2017, earth tones, including pastels and grays, were popular bathroom design trends. Matte instead of glossy finishes have been common as well.
Mixed Media
2017 was a year that saw designers mixing textures and materials in bathroom construction and decoration. A soft-edged stone basin, rounded mirror, painted cabinets, and wooden counters are examples of various elements that could be mixed to create an unforgettable bathroom.
Elegant Baths
As more and more people look to bathrooms as personal retreats, more elegant baths are sure to keep gaining popularity. Some of the latest materials used in bath fixtures are faux, natural, and volcanic limestone. Certain items are being crafted from pressed steel as well.
Many bathtubs are incorporating spa-like jet systems. Unlike the ones of the past, smaller bubbles are being used to add just a touch of relaxation.
Overall, a feeling of wellness and relaxation in the bathroom was the trend for 2017 bathroom remodels and designs.
If you are planning a bathroom remodeling project for the upcoming year, taking a look back at the 2017 trends will be a good starting point. For some advice from the experts, contact the professionals at Columbus Bath Design. Our staff is always available to share the latest bathroom fixtures and accessories for your next project.
by Columbus Bath Design |March 12, 2015 |0 Comments | Bathroom Remodeling, Uncategorized | bathroom remodeling, bathroom remodeling trends, columbus ohio bathroom remodeling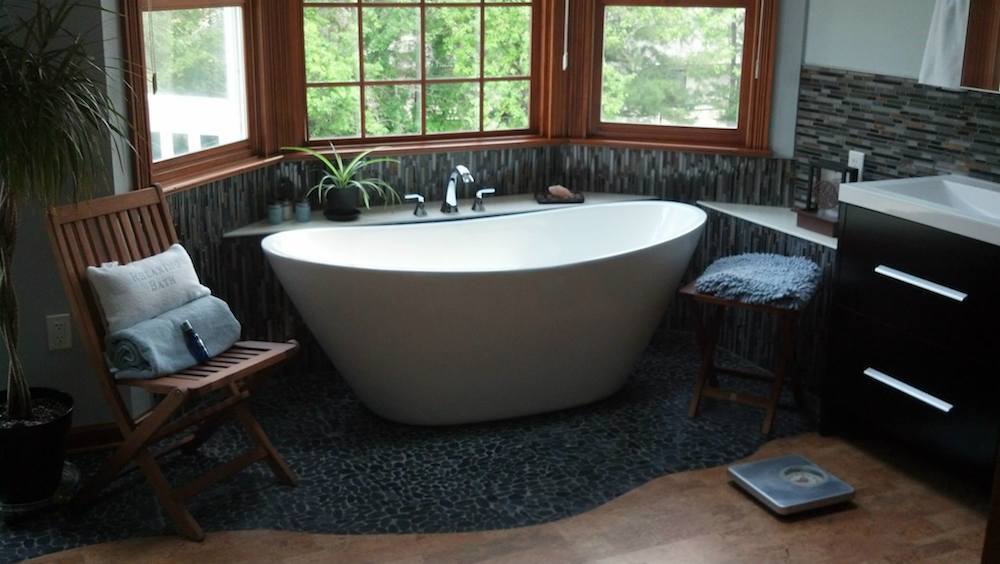 It's a great time to give your bathroom a cool, modern makeover. Beautiful baths will easily add value to your home, as well as give you a space that you will love. Here are some of the hottest trends in bathroom remodeling:
Separate Tubs and Showers
Designers and homeowners alike are favoring the separation of tubs and showers. Free standing bathtubs and walk-in shower stalls add a level of luxury that appeals to anyone desiring a custom look and feel. Glass shower enclosures are a popular choice because they create a more open and airy feel. If you have the space, consider creating a tiled walk in shower with separate soaking tub.
Removing the Tub
Another trend that's being seen more and more is the removal of the bathtub altogether. Especially when it comes to master bathrooms, many homeowners are opting to focus on just the shower. Showers with rainfall shower heads, glass doors, and gorgeous tiles give a high end look that many really love.
Elegant Light Fixtures
Light fixtures are playing a more prominent role in bathroom design. From stunning chandeliers to modern pendant lighting, there is a real focus on making light fixtures play a functional and ornamental role in the space. The right fixture brings character and class into the room.
Going Gray
In terms of color, gray is gaining popularity in the bathroom. From gray toned tiles and flooring to gray vanities and cabinetry, it offers a fresh and modern twist. White has been a favorite in the bathroom because it is bright and crisp, but design trends are moving towards adding more gray to give a contemporary feel.
The bathroom remains one of the most important spaces in the home. With the right elements, it can become a relaxing retreat for homeowners. Designers are ensuring that beautiful baths include all of the amenities that homeowners desire.
by Columbus Bath Design |November 6, 2014 |2 Comments | Bathroom Remodeling, Uncategorized | bathroom remodeling trends, Ohio Bathroom Remodeling, Shower Design
The key to creating an inviting atmosphere when bathroom remodeling is to maintain a clean, sleek look. Like all interior designs, there are certain trends that come and go over time for a bath. The shower is an essential element to the space, and it's where a fresh, modern look can really make an impact.
Shower design trends – What's hot?
One of the hottest trends in bathroom remodeling these days is showers having an easily accessible, walk-in design. The stall no longer has to be separate and closed off from the rest of the room. Many homeowners are opting to remove the tub, and instead install a single threshold or barrier free shower. This opens up the space, creating a spa-like atmosphere.
In terms of the tile pattern for shower stalls, subway tiles have made a major comeback in bathroom remodeling. They offer a very classic, yet stylish look that isn't too trendy. Subway tiles have shown that they have staying power, so this is one design that you can feel confident potential buyers will love for years to come.
Creating a sleek, inviting bath space requires a good eye for design. Homeowners are seeking looks that are timeless, yet on trend. A well designed bathroom will add a great deal of value to a home.  Columbus Bath Design Systems of Ohio is happy to help you with your bathroom remodeling project, and help you find the best option for your budget, style, and space.